DRIVER PROFILE
Adam Sorokin
Right now, Adam works at his company by day that he started a little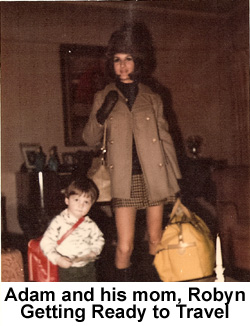 more than a year ago, Superior QC Services LLC, where they perform quality control for digital masters of television and feature films. He has a 9 year old son named Mikey and a girlfriend of 4 years, Jenni. His son, of course, already has the racing bug, but for now plays baseball and electric guitar.
Adam had the record for the quickest single run in a front engine nostalgia Top Fuel Dragster at 5.703, a run that held up for two years. He is also one of seven people ever to run over 260 miles per hour in a front engine dragster with a 260.71 mph at Pomona in 2007. He has been as quick as a 5.41 in a Fuel Funny Car but knows that they had some mechanical issues and looks forward to the day where he can run faster. He was the 2001 California Independent Funny Car Association Rookie of the Year and won the CIFCA 2002 Championship. He's one of the best leavers from the starting line as he's had the best Nostalgia Fuel Dragster average from 2005 through 2008 and is hoping to keep that going for this year.
The only thing I'd like to add about my friend, Adam Sorokin, is that there is so much more to him. This profile is only tapping on a small part of his life and his career. I look forward to when we can race together and hopefully, it will be within the Professional ranks in the NHRA.