DRIVER PROFILE
Adam Sorokin
One would think that at some point during our childhoods, that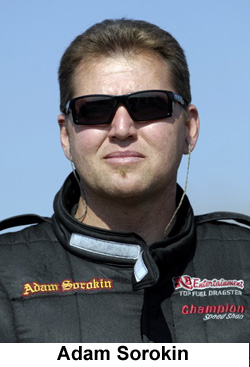 Adam Sorokin and I would have crossed paths at one race or another in Southern California. But as fate would have it, we didn't officially meet until we were both adults, and both finishing our licenses in funny cars at the Nitro Blast Off in Las Vegas in 2006. Adam was in a Fuel Funny Car, and of course I was in my alcohol funny car.
Since that time, Adam and I have become pretty good friends and he is someone that I have supported as a racer ever since that weekend. Not until last year at the Bowling Green Hot Rod Reunion, did I have the opportunity to tell him that.
I truly hope that you enjoy reading this as much as I have enjoyed doing the research and writing even more inside tidbits of my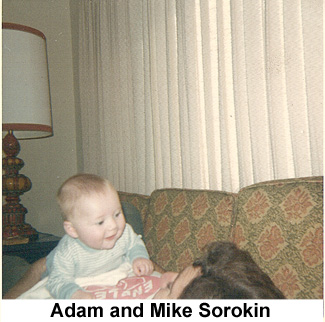 Southern California friend who is the only son from the Original Surfers, AA/Fuel Dragster from the sixties.
Adam Sorokin, a racer who was born in 1966 has built a resume of driving race cars from formula fords to karts and alcohol funny cars to nostalgia top fuel dragsters. He is a second generation racer from his family and is currently driving two different Nostalgia Top Fuel Dragsters. The first is the car that he went to the final round in last year at Bowling Green. It is Brian Van Dyke's RB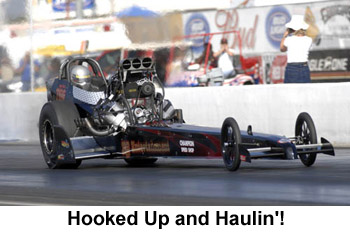 Entertainment Nostalgia T/F Dragster. The second is a small block Chevy powered T/F dragster that is known as the Champion Speed Shop Nostalgia T/F Dragster, owned by RB Entertainment Crew Chief, Bobby McLennan.
Adam always knew he wanted to drag race, but also knew what his monetary limitations were when he was younger. So with the racing fire within him, he put himself into Kart Racing. He raced Karts for a few years and during that time graduated from six different racing schools. The schools he attended are Jim Russell Racing School, Legends Racing School, Jim Hall Kart Racing School, KRC Kart Racing School, Drivetech Driving School and last but not least, Frank Hawley's School. Each one taught Adam something different to add to his quest for knowledge to be a better driver and to get the necessary licenses to pursue his dreams.
Here is a list of all the different types of fast (and unique) cars that Adam has driven to date:
An NHRA Fuel Funny Car, Nostalgia Top Fuel Dragster, Alcohol Funny Car, Super Comp Dragster, Nostalgia Junior Fuel Dragster, NASCAR Southwest Tour Car, Formula Ford, Spec Car Renault, SCCA Improved Touring B class, Legends, Karts (KT 100, Superbox, 80cc & 125 shifter) and... he even drove the caboose car in a figure eight train race once!