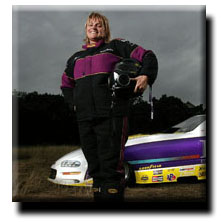 Nancy Matter attended her first race at the fabled San Fernando Raceway at the tender age of three. While growing up in the Southern California hotbed of drag racing, she spent countless weekends bracket racing with her mom, and traveled to numerous NHRA National and Divisional events with her step-dad. To say the hook was set in her young, impressionable mind during these years would be an understatement. Her strong desire to further her involvement in drag racing landed the youngster a summer job at NHRA, where she met and knew "everyone." Nancy's first hands-on Funny Car experience came when she met Lou and Vicki Gasparrelli, and she crewed with their competitive Alcohol Funny Car team throughout her teenage years.

Nancy stepped away from racing in the mid-80s to raise her two children, Ryan and Jamie, and also developed a career in the music industry. In 1998 Nancy founded Moonlight Mastering, a successful music studio, earning upwards of 35 gold and platinum recordings together with mega-superstars such as Peter Gabriel, The Who, Ray Charles, Genesis, and Run DMC, just to name a few. She always kept her fundamental goal in mind however, to own and drive a competitive racecar.

After completing her licensing at the Frank Hawley School of Drag Racing Nancy began competing in a Super Comp dragster. Nancy knew from the very beginning that she was destined to race a Funny Car, but realized that driving a dragster would earn her some very valuable experience. During three years of competitive Super Comp racing she also crewed on John Patton's "Foolish Money" Funny Car team, skillfully absorbing as much specialized knowledge as she could.
When Nancy sold her dragster, she buried herself in the studio for more than 18 months, churning out hundreds of albums. Her absence from the scene left fellow racers concerned, but Nancy assured them that she would return; "only this time it would be in a flopper."

In 2005, Nancy bought a turnkey 2002 Camaro Funny Car built by chassis builder Bob Massey. The car had only 30 laps on it, and all the components were brand new. She earned her Top Alcohol Funny Car license at the beginning of the 2006 season, and is now in a career transition while focusing all of her energy towards a career as a full-time professional drag racer. What's her ultimate goal? Driving a Nitro Funny Car – of course!
RACING ACCOMPLISHMENTS
Frank Hawley School of Drag Racing Graduate
Quarter Final Finishes in Super Comp at select events
Lucas Oil Division 4 Top 10 2006-2007
2006 NHRA Standings- 61st out of 122
2007 NHRA Standings- 41st out of 115
2008 Mid Season -- Tied for 3rd in Jegs Allstars
Division 4 Points Series-7th Place in Division 4
Lucas Oil Series
-1 Win and 1 Semi-final finish
49th out of 109 National Standings
BREAKING NEWS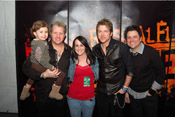 Who is that with Rascal Flatts?