DRIVER PROFILE
Adam Sorokin
Now for those of you who don't know this about Adam, Adam's dad was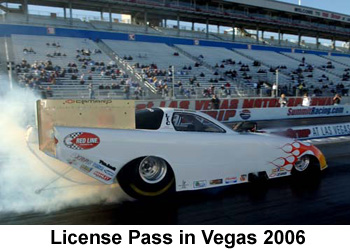 Mike Sorokin. Driver of the legendary Surfers Top Fuel Team, a very successful West Coast front engine top fuel dragster. Mike and his crew literally wore Van's shoes and rode skateboards around the pits and that's how their name came about. What made them so unique and successful, is they were crazy enough to be one of the first teams to realize that 50% nitro wasn't
enough, and they went for the 100%. Low and behold, guess how the world of Nitro changed. They figured out how to make it work and rapidly became the West Coast Hitters in that class.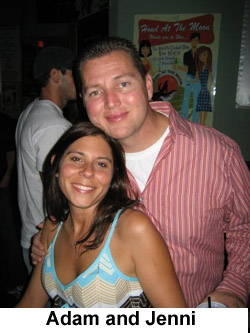 Most of this was prior to Adam's birth and as fate would have it, his dad passed from a clutch and drive line failure at Orange County Raceway when young Adam was only a year old. His mom was only 18 at the time. The one and only race that Adam's mom, Robyn, stayed home with her infant son .
From that point on, Adam and his mom became best of friends. His mom always made sure that Adam had the best of his Dad close within his heart. Even if he didn't ask, his mom would tell him what his dad was like, as a person, a racer, a dad and yes, being a member of The Surfers. Even today if you go and mention his dad, Adam beams a big smile, fond memories and is proud to tell you anything and everything as long as he has time in his busy racing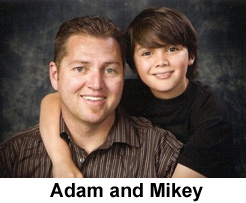 schedule.
Now I asked Adam to give me a tidbit about his mom and this is what he gave me. His mom never remarried up to her untimely passing of cancer when he was 18 years old. However, she did have some very interesting boyfriends. One of them he recalls was a jewelry thief/safe cracker that they lived with for a while. Can you imagine explaining that kind of job to a youngster?
Adam also went to Europe twice and traveled for several months at a time with his mom as a kid. In my opinion, what a smart woman to teach her child at such a young age what a big world there really is out there. An extremely good hands on World History class.
Prior to her passing and after her diagnosis, Adam stayed with her every moment he could. She knew deep down what her son wanted to do and unselfishly gave her his blessing to be the man he needed to be and become that driver he so longed for. From that point on, that's exactly what Adam has pursued.